Events and services - monthly calendar
Events and Services - This Week
Work on the Parish Library
Vigil. Gospel: John 10:1-9.
Holy Hierarch St. John, Archbishop of Shanghai and San Francisco. Hours and Liturgy. Scripture: for the Holy Hierarch: Hebrews 7:26–8:2; John 10:9-16.
Vigil. 4th Resurrection Gospel: Luke 24:1-12.
4th Sunday after Pentecost. Holy Apostle Jude, brother of our Lord, according to the flesh. English Liturgy. Scripture: for the Day: Romans 6:18-23; Matthew 8:5-13; for the Apostle: Jude 1:1-10; John 14:21-24.
4th Sunday after Pentecost. Holy Apostle Jude, brother of our Lord, according to the flesh. Slavonic Liturgy. Scripture: for the Day: Romans 6:18-23; Matthew 8:5-13; for the Apostle: Jude 1:1-10; John 14:21-24.
Continuing Education. Book Discussion Group (in English)
The Cathedral Church of St. John the Baptist
Our parish was organized by the saintly hierarch Archbishop John (Maximovich) in September, 1949. For nine years our congregation assembled each Sunday for Liturgy in the Resurrection Chapel of the National Cathedral.
Our first pastor was Fr. Manuil Yesensky, who served the spiritual needs of our congregation for two and a half years. He was replaced briefly by Fr. Boris Kritsky, and in 1953, Archimandrite Fr. Nicholas Pekatoros became our Rector. He served for nearly three decades, until his retirement in 1981. The present Rector of our Cathedral is Mitred Archpriest Fr. Victor Potapov; he is assisted by priest John Johnson, priest Alexander Resnikoff, priest Victor Klimenko, and protodeacon Leonid Mickle.
In 1956, land for the present Cathedral was acquired and in 1958 our congregation was finally able to worship in its own church building. New members and converts are attracted to our faith and our parish now consists of approximately 400 members.
Everything about the church edifice speaks of a rich Russian ecclesiastical heritage. The building is executed in the 17th-century Muscovite-Yaroslav-style. Gilded onion domes, each crowned with a traditional Russian three-barred cross, a belfry, and icons of scenes from the life of St. John the Baptist above the three doors adorn the exterior. Murals and numerous centuries-old icons and an imposing four-tiered iconostasis make up the interior.
The regular schedule of services includes a Saturday evening Vigil Service of Vespers and Matins, served in English at 4:00 P.M. and in Church Slavonic at 6:30 P.M., and a Sunday morning Liturgy, served in English at 8 A.M. and Church Slavonic at 10:30 A.M., In addition, the schedule includes special services on the numerous feast days of the Church calendar. These services are held primarily in Church Slavonic, the liturgical language of the Eastern-Slav Churches. For more detail, please visit our Calendar of Services.
The main Cathedral a capella choir under the direction of Mr. Yuri Petcherkin accompany the Slavonic divine services, while the English-Language choir is directed by Paula Genis.
Our parish sponsors a number of cultural, charitable and social activities, and maintains a library. Our children attend Sunday school, where they are instructed in religion. Sunday school classes are conducted in English as well as Russian. The parish children also participate in a Russian Scout organization known as the St. George Pathfinders. Thanks to the extensive activities of our devoted Sisterhood and the efforts of the Building Committee and Parish Council, funds are being solicited to finance the painting of the murals and other projects, including numerous charities.
We, the parishioners of the Cathedral of St. John the Baptist, together with all the other parishes of our Russian Orthodox Church Outside of Russia in the United States, rejoice that we can freely exercise our religious beliefs and pray for peace among all nations and for the strengthening of the moral fabric of our society.
Relics in cathedral - monthly calendar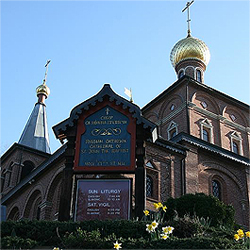 Subscribe to our mailing list
While all the materials on this site are copyrighted, you may use them freely as long as you treat them
with respect and provide attribution on the Russian Orthodox Cathedral of St.John the Baptist of Washington DC.