Events and services - monthly calendar
Events and Services - This Week
Matins, Hours and Typica.
Liturgy of the Presanctified Gifts. (Confession – from 6:00 PM).
4th Saturday of Great Lent. Ancestral Saturday. Requiem Matins, Hours, and Liturgy. Scripture: Hebrews 6:9-12; Mark 7:31-37; for the repose: I Corinthians 15:47-57; John 5:24-30.
Meeting of the Miraculous "Softener of Evil Hearts" Icon of the Mother of God, and Vigil (hierarchical rite). 7th Resurrection Gospel: John 20:1-10.
4th Sunday of Great Lent. Commemoration of St. John Climacus. Meeting of His Grace, Most Reverend Bishop Nicholas, and Liturgy (one Liturgy, in light of Bishop Nicholas' visit and the general parish Holy Unction.) Scripture: Hebrews 6:13-20; Mark 9:17-31; for the Venerable Saint: Ephesians 5:9-19; Matthew 4:25–5:12.
General Holy Unction for the entire Parish. Anyone wanting to take part in this Holy Mystery must have a been to Confession and Communion at least once during Great Lent, on or before the day of Holy Unction.
Dance group rehearsal: Younger dancers – 6:15 PM, Older dancers – 7:00 PM.
2017.01.27. Maslenitsa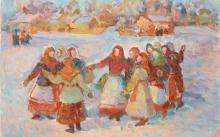 This year, under the kind patronage of His Excellency Sergei Ivanovitch Kislyak, the Russian Federation's Ambassador Extraordinary and Plenipotentiary to the United States, Maslenitsa will once again be celebrated at the Russian Embassy, on Friday, February 17, beginning at 7:00 PM. This event is not merely a bright and festive celebration that takes place before the beginning of Great Lent. The true focus of Maslenitsa is on charity. The funds collected by parishioners of both cathedrals (of St. John the Baptist and St. Nicholas the Wonderworker) will be used to help the needy both here and in Russia.
We ask you to participate as much as possible in the celebration of Maslenitsa and in helping our brothers and sisters who are in need.
The number of tickets available is limited. Tickets to the charitable function may be purchased for $175 per person, or $340 per couple. Tickets for a table for ten cost $1700. A second class table costs $2,750. A first class table is $3,500. Tickets will not be sold at the Embassy.
If you have not received an invitation in the mail, and would like to buy tickets or make a donation for charitable purposes, please contact Marina Poutiatine by telephone at 301-523-9281 or via email at:
Relics in cathedral - monthly calendar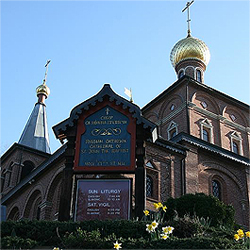 Subscribe to our mailing list
While all the materials on this site are copyrighted, you may use them freely as long as you treat them
with respect and provide attribution on the Russian Orthodox Cathedral of St.John the Baptist of Washington DC.