2016.01.17. Metropolitan Jonah performs Priestly Ordination in St. John the Baptist Cathedral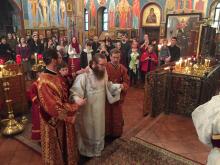 On January 3, the Sunday of after the Nativity – of the Holy Ancestors of God, with the blessing of Metropolitan Hilarion, First Hierarch of the Russian Church Abroad, Metropolitan Jonah performed the priestly ordination of Deacon Ignatius Green at the English Divine Liturgy at St. John the Baptist Cathedral in Washington, DC.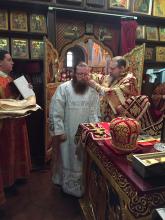 Fr. Ignatius was born in Pennsylvania. He converted to Orthodoxy while attending college in Maryland, and with Metropolitan Jonah's blessing organized a missionary church in Annapolis, MD. Fr. Ignatius' Matushka Aimilia was baptized into Orthodoxy at age 9. The young family has two children – a son, Ephraim, and a daughter, Theophano.
In the spring of last year, Fr. Ignatius graduated from St. Vladimir Seminary with a Master of Divinity, and on December 27, 2015 was ordained a deacon by Metropolitan Hilarion in the Synodal Cathedral of the Sign in New York City.
Fr. Ignatius will fulfill his priestly service at Holy Protection Church in Nyack, NY, and will continue his seminary education as he completes his Master of Theology.
A video of the Divine Liturgy with ordination can be viewed here.
Relics in cathedral - monthly calendar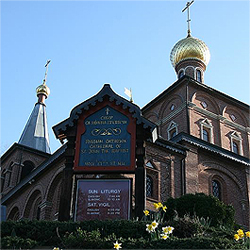 Subscribe to our mailing list
While all the materials on this site are copyrighted, you may use them freely as long as you treat them
with respect and provide attribution on the Russian Orthodox Cathedral of St.John the Baptist of Washington DC.