An encounter with brother Joseph
For a long time my mother Irina has been suffering with cancer and a number of other illnesses. Recently, a lesion appeared on her leg, causing extreme pain on ambulation. Knowing that oil from the Myrrh-streaming Montreal-Iveron Icon of the Most-holy Theotokos (whose curator was ever-memorable brother Joseph) had helped hundreds of the faithful to be healed of serious illnesses, I decided to ask matushka Maria for help.
After the Resurrection Service on September 2, I asked matushka if there was any possibility of getting at least a drop of Myrrh from the "Montreal" Icon for the purpose of healing my mother. It was to my enormously good fortune that on learning the history of my mother's illness, matushka immediately took a little bottle of the oil from her purse, and handed it to me. For me, that very fact was an event of extremely great importance! After all, I had received a part of the Miracle! The next morning, Moscow time, I called home to announce that remarkable event. However, an even greater surprise awaited me. My mother said that she already knew about it, for in a dream, brother Joseph himself had appeared to her!
The dream about brother Joseph
My mother related to me that brother Joseph had appeared to her in a dream on the very day that matushka Maria and Fr. Victor were visiting Jordanville. Brother Joseph spoke to her for quite some time, and considered the reasons that she had fallen ill. He was dressed in a green sticharion. According to my mother, he appeared very bright and kind. She also noted that brother Joseph's hands were quite large.
At the conclusion of their conversation, brother Joseph gave mother a container of oil and instructed her to immediately put it to use "for later it will be too late." While he was giving her the oil, a flame was burning in his hands.
Glory to God for His mercy upon us sinners!
16 September, 2007
Andrei Gidaspov
Parishioner of the Cathedral
of St. John the Baptist in Washington
Address of our Cathedral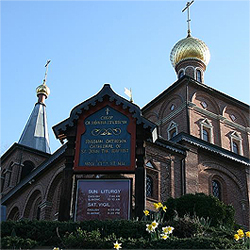 4001 17th St. N.W.,
Washington, D.C., 20011
Phone (202) 726-3000
Email webmaster@stjohndc.org
Subscribe to our mailing list
While all the materials on this site are copyrighted, you may use them freely as long as you treat them
with respect and provide attribution on the Russian Orthodox Cathedral of St.John the Baptist of Washington DC.