Our bells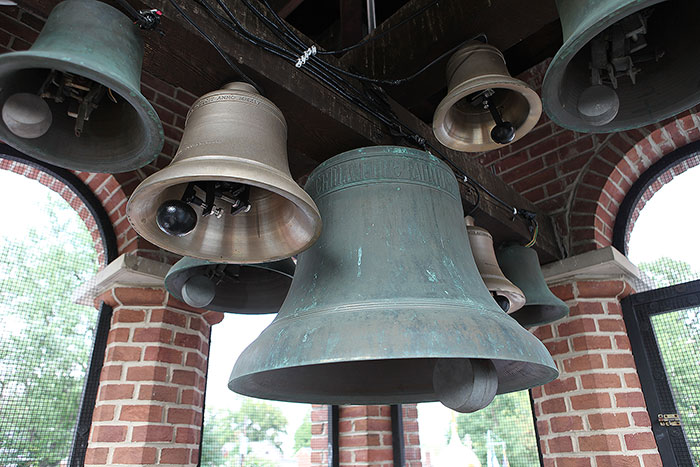 From ancient times the pealing of bells has served as an integral part of Orthodox Christian liturgical and spiritual life. The deep bass sound of a large bell or the rhythmic ringing of smaller bells not only accompanied various parts of the services, but also was in a sense a prayer without words that uplifted the soul and served as an icon of sound, helping to distract the faithful from the commotion of the outside world in order to focus more on God.
As we read in rubrics on church bells: "The sound of the Orthodox pealing of bells is intermingled with the grace of God and is intended to deepen a Christian's piety and to strengthen his belief, trample and destroy demonic designs, embellish God's creation and serve the needs of His people."
The belfry of St. John the Baptist Cathedral is made up of eight bells. They are rung according to the melodic tradition of the ancient Rostov and Yaroslavl Kremlins, the St. Alexander Nevsky and Trinity-St. Sergius Lavras, well-known churches and monasteries in Moscow and also special melodies, composed by outstanding contemporary Russian masters of bell-ringing (we are especially grateful to Sergey Platonov of the Ilya Drozdikhin Moscow School of Bell-Ringing and to Andrey Diachkov of the International Center of Bell-Ringing Art).
The art of bell ringing is a unique form of music and is a joy to behold. It is interesting to note that the bells of our Cathedral have links to the names of two well-known Russian artists:
In 1983 the legendary performers Mstislav Rostropovich and his wife Galina Vishnevskaya donated to our parish five bells and dedicated them to the memories of the following composers who were exiled from their homeland: Alexander Grechaninoff, Sergei Rachmaninoff, Igor Stravinsky, the Russian basso Feodor Chaliapin and "all those who suffered at the hands of the godless powers." Thirty-one years later, in 2014, the couple's daughters Olga and Elena Rostropovich donated to our church another three bells and a new computer controlling system, dedicating these gifts to the memory of their parents, and also to the memory of émigré composer, conductor and pedagogue Nikolai Cherepnin. In 1921 Cherepnin emigrated to France and continued his career there and in other countries of Europe. Cherepnin was one of the founders and teachers of the Russian Conservatory in Paris. He died near Paris in 1945.
The numerous melodies of the bells of St. John the Baptist Cathedral can be heard and downloaded in the links shown below.
Pages