Events and services - monthly calendar
Events and Services - This Week
Matins, Hours and Typica.
Liturgy of the Presanctified Gifts. (Confession – from 6:00 PM).
4th Saturday of Great Lent. Ancestral Saturday. Requiem Matins, Hours, and Liturgy. Scripture: Hebrews 6:9-12; Mark 7:31-37; for the repose: I Corinthians 15:47-57; John 5:24-30.
Meeting of the Miraculous "Softener of Evil Hearts" Icon of the Mother of God, and Vigil (hierarchical rite). 7th Resurrection Gospel: John 20:1-10.
4th Sunday of Great Lent. Commemoration of St. John Climacus. Meeting of His Grace, Most Reverend Bishop Nicholas, and Liturgy (one Liturgy, in light of Bishop Nicholas' visit and the general parish Holy Unction.) Scripture: Hebrews 6:13-20; Mark 9:17-31; for the Venerable Saint: Ephesians 5:9-19; Matthew 4:25–5:12.
General Holy Unction for the entire Parish. Anyone wanting to take part in this Holy Mystery must have a been to Confession and Communion at least once during Great Lent, on or before the day of Holy Unction.
Dance group rehearsal: Younger dancers – 6:15 PM, Older dancers – 7:00 PM.
Contact us
We would be privileged to have you as our guest. We are located at:
4001 17th St. Northwest, Washington, D.C., 20011
Tel.: (202) 726-3000 email:
Rector: vpotapov@comcast.net
Assistant Rector: fr.john.johnson@gmail.com
Webmaster: webmaster@stjohndc.org
Public Transportation: Take any local S2 or S4 metrobus on 16th St.; get off at Shepherd St. and walk one block on Shepherd St. to the church (Shepherd St. only goes one way from 16th St.).
View Larger Map
Relics in cathedral - monthly calendar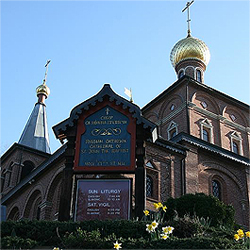 Subscribe to our mailing list
While all the materials on this site are copyrighted, you may use them freely as long as you treat them
with respect and provide attribution on the Russian Orthodox Cathedral of St.John the Baptist of Washington DC.