Blessed are the peacemakers, for they shall be called sons of God
Our Creator is the God of Peace. The Heavenly Father sent His Only Begotten Son, Jesus Christ, to earth, in order to reconcile man to God. The Apostle Paul speaks with encouragement about Christ the Reconciler:
For it pleased the Father that in him should all fulness dwell; and, having made peace through the blood of his cross, by him to reconcile all things unto himself; by him, I say, whether they be things in earth, or things in heaven. And you, that were sometime alienated and enemies in your mind by wicked works, yet now hath he reconciled in the body of his flesh through death, to present you holy and unblamable and unreprovable in his sight (Colossians 1:19-22).
This Kingdom of God is a kingdom of peace. Peace I leave with you, my peace I give unto you ... (John 14:27), said the Lord Jesus Christ. And again: These things I have spoken unto you, that in me ye might have peace (John 16:33). Peace in me and my peace mean the peace acquired in accordance with the testament, teaching, and example of Christ. These words of the Savior speak of that very peace that the Apostle Paul lists among the fruits of the Holy Spirit (Galatians 5:22), which is also the peace of God, which passeth all understanding (Philippians 4:7).
When Christ was born in Bethlehem of Judea, the angles sang: Glory to God in the highest, and on earth peace, good will toward men (Luke 2:14). Despite ongoing conflict, Christ liberated the wills and hearts of the peacemakers when he beckoned them into the Kingdom of God. These peacemakers suffuse peace onto all around them. Peacemakers are called, therefore, according to Christ's words, the sons of God.
The word peace was a form of greeting among ancient peoples. Even now Israelis greet one another with peace, which is said shalom just as during the Savior's life on earth. The ancient Hebrew word shalom is richly evocative. As a metaphor, shalom signified the good relations between peoples, families, and nations, between husband and wife, between man and God. The opposite of shalom was not war but whatever violates or destroys individual well-being or good social relations. And shalom signified a special gift from God to Israel for the sake of His Covenant (agreement), with rich moral, psychological, and historical associations when used in priestly blessings.
The savior used peace, shalom, in the same way. He greeted the apostles with it, as in the Gospel according to John: The first day of the week (after the resurrection of Christ from the dead) ... came Jesus and stood in the midst (of His disciples), and saith unto them, Peace be unto you. And then: ... said Jesus to them again, Peace be unto you: as my Father hath sent me, even so send I you (John 20:19, 21). This greeting is not a formality. Christ really clothes His disciples in peace, knowing that ahead they will travel though enmity and persecution towards martyrdom.
The epistles of Apostle Paul tell us that this peace is not of this world. As one fruit of the Holy Spirit, peace is from Christ, for he is our peace (Ephesians 2:14). The divine services of the Orthodox and other Christian Churches have bishops and priests bless the people of God with the sign of the Cross and the words: Peace be unto all. The experienced wholeness of this peace has us sated and filled. No one can take its power from us. Or Lord=s peace frees a man from every anxiety and fear about what to eat and drink or what to wear. The heart filled with peace is not subject to confusion or fear, even in terrible sufferings and death. And only someone who abides in such peace can say, like the Apostle Paul--
Who shall separate us from the love of Christ? shall tribulation, or distress, or persecution, or famine, or nakedness, or peril, or sword? As it is written, For thy sake we are killed all the day long; we are accounted as sheep for the slaughter. Nay, in all these things we are more than conquerors through him that loved us. For I am persuaded, that neither death, nor life, nor angels, nor principalities, nor powers, nor things present, nor things to come, nor height, nor depth, nor any other creature, shall be able to separate us from the love of God, which is in Christ Jesus our Lord (Romans 8:35-39).
The satisfying inward peace of Christ, however, strengthens us to continue to oppose evil in the world. Christ indicated that to oppose evil, He would cause many disturbances and alienations among men. In the Gospel according to Matthew, He says--
Think not that I am come to send peace on earth: I am come not to send peace, but a sword. For I am come to set a man at variance against his father, and the daughter against her mother, and the daughter in law against her mother in law. And a man's foes shall be they of his own household. He that loveth father or mother more than me is not worthy of me: and he that loveth son or daughter more than me is not worthy of me. And he that taketh not his cross, and followeth after me is not worthy of me. He that findeth his life shall lose it: and he that loseth his life for my sake shall find it (Matthew 10:34-39).
In this way, a peacemaker is one who testifies about Christ, who fearlessly takes up his cross, and gives up his life for the Lord, whose life shows truth and love and the peace of Christ. The peace of God, writes Bishop Ignatius Brianchaninov, is accompanied by the clear presence of the Holy Spirit in a man; it is the activity of the Holy Spirit (Ascetical Experiences, page 594). Venerable Seraphim of Sarov, in his conversation on the acquisition of the Holy Spirit, measures the power of the peacemaker on human society: Acquire the spirit of peace and thousands around you will be saved. The soul cannot have peace, teaches Elder Siluan of Athos, if it will not study the law of God day and night, for this law is written by the Spirit of God, and the Spirit of God passes from the Scriptures to the soul, and the soul feels delight and pleasure in this.
Venerable Siluan of Athos, p.133.
The Apostle Paul instructs us in the Epistle to the Romans:
If it be possible, as much as lieth in you, live peaceable with all men. Dearly beloved, avenge not yourselves, but rather give place unto wrath: for it is written, Vengeance is mine; I will repay, saith the Lord. Therefore, continues the Apostle Paul, if thine enemy hunger, feed him; if he thirst, give him drink: for in so doing thou shalt heap coals of fire on his head. Be not overcome of evil, but overcome evil with good (Romans 12:18-21).
In his Homily on the Beatitudes, the holy Hierarch Gregory of Nyssa extolls peace and concord among people:
Of everything that people seek to enjoy in life, is there anything sweeter than a peaceful life? Everything that you would call pleasant in life, is pleasant only when it is united with peace. Let there be everything that is valued in life: wealth, health, a wife, children, a home, relatives, friends; let there be beautiful gardens, places for merry banquets and all contrivances for amusement ... let all this be, but if there not be peace, what use is it? ... And so, peace is not only pleasant in itself for those who enjoy peace, but it makes all the good things of life enjoyable. If there should occur with us, as often happens with people, some kind of misfortune in a time of peace, it too becomes more tolerable, because in such a case evil is pacified by good... Judge for thyself: What sort of life do those who are at enmity with each another and are suspicious of one other have? They meet sullenly and one abhors everything in the other; their lips are mute, their glance is averted and the hearing of one is closed to the words of the other.
Everything that is pleasing to one of them is hateful to the other; and, on the contrary, that which is hateful and hostile to one, is pleasing to the other. Therefore, the Lord wants that thou wouldst multiply in thyself the grace of peace with such abundance, so that not only wouldst thou enjoy it, but that thy life would serve as a medicine against the illness of others ... Whoever turns others away from this shameful vice, such a one renders the greatest benefit and may justly be called blessed; such a one performs a work of God's power, by destroying evil in human nature, and by introducing in place of it fellowship with good things. That is why the Lord also calls the peacemaker a son of God, because he who procures such tranquility for human society becomes an imitator of the true God. The Bestower and Lord of good things completely exterminates and destroys all that is unnatural and alien to good. A similar activity does He command also of thee; and thou must extinguish hatred, cut off enmity and vengeance, destroy quarrels, expel hypocrisy, extinguish the remembrance of wrongs which corrupts the heart, and in place of it introduce everything contrary ... love, joy, peace, goodness, magnanimity, in a word the whole assemblage of good things. And so, is not he blessed who distributes the divine gifts, who imitates God in his gifts, whose benefactions are similar to God's great gifts? ("Homily on the Beatitudes.")
Conversion is the like's work of a Christian, working primarily on repentance. The Greek word metanoia is usually translated as repentance, but it means literally a change of mind. The religious change is for mind and our will to leave off an incorrect, ruinous way, for the correct, saving way.
The Russian word pokajanie or raskajanie (repentance) is just as richly evocative. The word okajanstvo (wretchedness) is a derivation from the name of Cain, the murderer in Genesis, the first Old Testament book of the Bible. Cain transgressed God's will like his parents Adam and Eve, and fell lower, having defiled conscience and the earth by shedding the blood of his brother, Abel. Since he broke peace with God and his brother, Cain is the father of enmity. The process of repentance (pokajanie) erases the image of Cain from oneself and removes his mark from one's heart.
Repentance begins with seeing how far our willfulness carried us from God's righteousness. To repent and to reach true spiritual perfection next calls for forgiveness of one another's offences.
Christ forewarns: if ye forgive men their trespasses, your heavenly Father will also forgive you: but if ye forgive not men their trespasses, neither will your Father forgive your trespasses (Matthew 6:14-15).
Offence sit deeply in the human heart and sometimes must painfully be wrenched out. As our strength increases to cast out grudges and hurts that have and hindered peace with other people, then the joy of forgiveness comes. Boldly we can entreat Our Heavenly Father: Forgive us our debts, as we forgive out debtors (Matthew 6:12).
When we are unreconciled with neighbors, neither fasting, nor services, nor prayers, nor sacrifices have any significance as repentance. If pride hinders us, we must overcome it. Pride is the cause of every evil. We must humble ourselves and find strength to fight our pride. The Orthodox Church placed the merciful Rite of Forgiveness on the Eve of Great Lent, when those entering the Lenten path ask forgiveness of each other. We are all guilty. Any sin of ours, even the most hidden, even mental sin and the sin we unconscious, harms all of us and the world. All mankind has one family, and the sin of each harms everyone else.
Sometimes, for example, an evil man enters into a room, or a man who is not evil but somewhat gloomy. His gloom shows in his gaze or unfriendly smile. Sometimes an encounter with such a gaze or unfriendly smile can depress other people and increase malice in their souls. In reverse, the silent presence of a holy man or an ordinary but good man - his gaze, smile, and voice - can comfort people with joy and peace. Children also bring light and joy just by their presence. So we are accountable for the bad that we did or thought or for not doing enough good.
The Apostle Peter asked of the Lord: How many times should one forgive a debtor? until seven times? To this Christ answered: I say not unto thee, Until seven times: but, Until seventy times seven (Matthew 18:22). That is, one must forgive continuously.
So we must acquire a spirit of peace to influence our neighbors, so that, according to the word of Venerable Seraphim of Sarov, thousands around us would be saved. We must try to find the part in the soul of each man that is receptive to goodness. We must enter his circle of interests and to adapt ourselves to his concepts and leanings. The Apostle Paul did so constantly, who wrote in his First Epistle to the Corinthians: unto the Jews I became as a Jew, that I might gain the Jews; to them that are under the law, as under the law, that I might gain them that are under the law; to them that are without law, as without law, (being not without law to God, but under the law to Christ,) that I might gain them that are without law (I Corinthians 9:20-21).
By trying to see a man's strengths, and not his shortcomings; and by forgiving his blunders and sins, we take part in his reform, rebirth, and reconciliation to God. As missionaries, we draw him into Christ's Court, where the sound of those that keep festival is unceasing and endless is the delight of those who behold the unutterable beauty of [the Lord's] countenance. Insofar, by grace, we become sons of God.
©Archpriest Victor Potapov,
1992-1993
Address of our Cathedral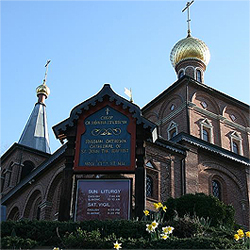 4001 17th St. N.W.,
Washington, D.C., 20011
Phone (202) 726-3000
Email webmaster@stjohndc.org
Subscribe to our mailing list
While all the materials on this site are copyrighted, you may use them freely as long as you treat them
with respect and provide attribution on the Russian Orthodox Cathedral of St.John the Baptist of Washington DC.