Blessed are they that mourn, for they shall be comforted
In this commandment, Lord Jesus Christ speaks about the contrition and sorrow that come from knowing one's separation and remoteness from God. Christ lists this spiritual mourning next after those poor in spirit, counting them blessed who tearfully sorrow over their unworthiness, as King David cried out in repentant sorrow: Every night I will wash my bed, with tears will I water my couch (Psalm 6:7). So too did sorrow the Apostle Peter, who denied Christ: And Peter remembered the word of Jesus, which said unto him, Before the cock crow, thou shalt deny me thrice. And he went out, and wept bitterly (Matthew 26:75). The Apostle Peter wept continually. It is said that during his life, each time whenever he heard the cock crow, he would recall his denial, and, with a feeling of the most profound repentance until the end of his days, he would shed bitter tears.
Whoever thinks he can go along the way after Christ without mourning is naive, writes Archimandrite Sophronius (Sakharov) in his book To Know God as He Is. Take up a dry nut, place it under a heavy press and you will see how oil will begin to flow from it. Something similar takes place in our heart when the invisible fire of God's word burns it from all sides. Our heart has become stony in its brute egoism, and, what is worse, in its spasm of pride. But truly there is such a Fire (Luke 12:49), which is able to melt even the strongest metals and stones.
The First Beatitude - Poverty of Spirit - gives rise to the Second - Blessed Mourning. The man who is poor in spirit, who is free from spiritual and physical desires, cannot but sorrow over himself and in general over the fallen state of all humanity, and over the horrors of our godless world, held captive by its own vain inventions, a world which considers itself rich and prosperous, in need of nothing, but which is in reality, according to the word of the Apocalypse, wretched, and miserable, and poor, and blind, and naked (Revelation 3:17). Knowing all that God gives us, and all who actually abides with God, one can only sorrow and weep - As the prophets did over the sinners of Israel, as the Lord did over the corpse of Lazarus, or over the city of Jerusalem, and last in the garden of Gethsemane, before the cup of His Own passion. Any absence of mourning, according to the teaching of the Fathers of the Church, shows that our prayer has not yet ascended past its first degree towards God.
Who has not wept in life? We know sorrow from the loss of relatives and near ones. This is natural sorrow. Tears are a sign of suffering. But can suffering give happiness and blessedness to man? Not always. If a man suffers because of visible good things, because of pride, passions and self-love, then these sufferings only torture the soul and do not bring any benefit. But if a man accepts suffering as a trial sent by God, then grief and tears cleanse and wash his soul, and he finds joy and comfort even in grief itself.
The Fathers of the Church teach us to distinguish the sources of tears. Thus, the Venerable Ephraim the Syrian writes:
"With people there are three different kinds of tears. There are tears for visible things--and they are very bitter and vain. There are tears of repentance, when the soul desires eternal good things, and they are very sweet and beneficial. And there are tears of remorse there, where (according to the Savior's word) there is weeping and gnashing of teeth (Matthew 8:12), and these tears are bitter and useless, because they are altogether fruitless when there is no longer any time for repentance."
For the Venerable Ephraim the Syrian, the second kind of tears is that blessed sorrow over sin necessary in spiritual life. Such mourning is considered blessed because the tears have no darkness or hopelessness, but, on the contrary, Christ's victory fills this sorrow with hope, light, and joy.
Now I rejoice, not that ye were made sorry, writes the Apostle Paul to the Christians in Corinth, but that you sorrowed to repentance: for you were made sorry after a godly manner, that ye might receive damage by us in nothing. For godly sorrow worketh repentance to salvation not to be repented of: but the sorrow of the world worketh death. For behold this selfsame thing, that ye sorrowed after a godly sort, what carefulness it wrought in you (II Corinthians 7:9-11).
The Venerable John of the Ladder, following after the Apostle Paul, says in the Seventh Steps of The Ladder of Divine Ascent:
"Mourning according to God is sadness of soul and the disposition of a sorrowing heart, which ever madly seeks that for which it thirsts . . . Mourning is a golden spur in a soul which is stripped of all attachment and of all ties . . . Keep a firm hold of the blessed gladdening sorrow of holy compunction, and do not stop working at it until it raises you high above the things of this world, and presents you pure to Christ . . . The fruit of spurious compunction is self-esteem, and the fruit of praiseworthy compunction is consolation . . . When I consider the actual nature of compunction, I am amazed at how that which is called mourning and grief should contain joy and gladness interwoven within it, like honey in the comb."
Another great Christian ascetic, the Venerable Nilus of Sinai, speaks on this theme. In his work On Prayer; we read:
"Do not turn into a passion the means (provided) against the passions, lest thou stir to greater wrath Him Who gave thee this grace (that is, tears). While shedding tears over (their) sins, many have forgotten the purpose of tears and, having become frenzied, they have fallen away from the right path."
The saints, through the contemplation of nature and its phenomena, themselves learned spiritual mourning, faith, and piety. So, for example, did the Venerable Ephraim the Syrian.
"One day", he writes, "after rising very early, I went out with two brethren from the blessed city of Edessa; lifting up my eyes to heaven, which, like a pure mirror, gloriously shown upon the earth with stars, in wonder I said: If the stars shine with such glory, then will not the righteous and holy, who did the will of the Holy God, shine with the ineffable light of the Savior at that hour when the Lord cometh?
But no sooner did I remember about the terrible advent of the Lord than my bones began to shake. My soul and body trembled; I began to weep with heartfelt pain and said, sighing: What will I, a sinner, prove to be at that terrible hour? How shall I stand before the throne of the Terrible Judge? How shall I, the dissipated, have a place with the perfect? How shall I, the fruitless, appear among the number of those who have brought forth fruits of righteousness?
Who will recognize me? The righteous will be in the bride chamber; the impious, in fire; the martyrs will show their wounds; the ascetics, their virtues; and what shall I show, besides my indolence and negligence?"
The Holy Fathers of the Church teach us to ask of the Lord the gift of tears, because without tears there can be no real repentance and cleansing of the soul. Penitential tears are a kind of second baptism that washes away every sin from a man=s soul. For much as after a violent burst of rain, says Saint John Chrysostom, there is a clear open sky; so likewise when tears are pouring down, a calm arises, and serenity, and the darkness that ensues on our sins quite disappears (Homily 6 on the Gospel according to Matthew). Mourning over sins, writes Saint Demetrius of Rostov, washes the soul, whitens every darkening, cleanses the conscience, enlightens the mind, loosens sinful bonds, and expiates the handwriting of iniquities.
Those who sorrow over their fallen condition and the sinful world will rejoice in the future age, according to the Savior's word: Verily, verily, I say unto you, that ye shall weep and lament, but the world shall rejoice: and ye shall be sorrowful, but your sorrow shall be turned into joy (John 16:20). Those who mourn in this life will rejoice in eternal life, for genuine, blessed joy--consolation is given only in the eternal abodes in God's Kingdom, for there, as it is said in the Revelation of John the Theologian, God shall wipe away all tears from their eyes; and there shall be no more death,, neither sorrow, nor crying, neither shall there be any more pain: for the former things are passed away (Revelation 21:4).
©Archpriest Victor Potapov
1992-1993
Address of our Cathedral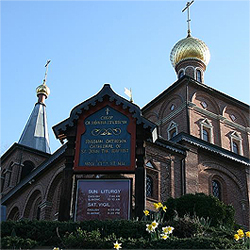 4001 17th St. N.W.,
Washington, D.C., 20011
Phone (202) 726-3000
Email webmaster@stjohndc.org
Subscribe to our mailing list
While all the materials on this site are copyrighted, you may use them freely as long as you treat them
with respect and provide attribution on the Russian Orthodox Cathedral of St.John the Baptist of Washington DC.