The Parable of the Imprudent Rich Man
A certain man once appealed to Jesus Christ with a request to order his brother to divide an inheritance with him. Christ declined this request, for He came not in order to hear lawsuits within the competence of a civil judge, but for higher purposes - for the moral re-education of men and to open unto them the way into the Kingdom of Heaven.
The request to divide property served as a new occasion for Christ to warn his audience against the disease of acquisitiveness, that is, the passion for acquiring riches for the enjoyment of earthly goods. In so doing, Christ pointed out the vanity of passion for possessions, for a man's long life does not depend on an abundance of things belonging to him. As a vivid illustration of this truth, and, as it were, in response to the man who had appealed to Him with a request concerning the division of earthly wealth, and, likewise, as an explanation of that inner danger to which wealth leads, the Saviour brought forth the parable of the imprudent rich man:
The Evangelist Luke has preserved this parable for us:
The ground of a certain rich man brought forth plentifully: and he thought within himself, saying, What shall I do, because I have no room where to bestow my fruits? And he said, This will I do: I will pull down my barns, and build greater; and there will I bestow all my fruits and my goods. And I will say to me soul, Soul, thou hast much goods laid up for many years; take thine ease, eat, drink, and be merry. But God said unto him, Thou fool, this night thy soul shall be required of thee: then whose shall those things be, which thou hast provided? So is he that layeth up treasure for himself, and is not rich toward God (Luke 12:16-21).
God said to the imprudent rich man: Thou fool, this night thy soul shall be required of thee: then whose shall those things be, which thou hast provided?
This question has not given, nor does it give rest to many of the rich. Even the most rich Solomon, in pondering over this question, said: For all is vanity and vexation of spirit. Yea, I hated all my labour which I had taken under the sun: because I should leave it unto the man that shall be after me. And who knoweth whether he shall be a wise man or a fool? yet shall he have rule over all my labour wherein I have shewed myself wise under the sun. This is also vanity (Ecclesiastes 2:17-19).
Even the pagan philosopher, the Roman Seneca, in a letter about the sudden death of a rich acquaintance, wrote: "How foolish it is to make plans in life! We cannot be in charge of ourselves even for the morrow! O the madness of those who amuse themselves with hopes for the distant future! I shall buy, I shall build, I shall lend, I shall take back, I shall hold a post, and then I shall enjoy contentment in the years of old age and weariness!"
It only remains to repeat once more Christ's concluding words from the parable of the imprudent rich man: So is he that layeth up treasure for himself, and is not rich toward God.
All the rich man's interests, as is evident from the parable, were reduced to earthly well-being, and his thoughts and soul were far from God and from striving toward intransient spiritual values. It is characteristic that everything which he possessed he called his own, forgetting or not knowing that all that is "ours", in actual fact belongs to God and is given to us wanderers on the earth for temporary use. The earth is the Lord's, and the fullness thereof, the world, and all that dwell therein (Psalm 23:1; see also Psalm 49:12) - exclaims the Psalmist. Our life itself is in God's hands and all its days are counted by God before our birth (Psalm 138:15). Just when the rich man's passion for cupidity was satisfied and he was so confident about his future prosperity, the Lord cut short his life. Surely, writes King David, and after him the other prophets of the Old and New Testaments and the Apostle Paul, man walketh about like a phantom, nay, in vain doth he disquiet himself. He layeth up treasure, and knoweth not for whom he shall gather it (Psalm 38:8-9; see also Psalm 48:11, Proverbs 11:4, Ezekiel 7:19, I Timothy 6:7, 9-11, 17-19).
Lay not up for yourselves treasures upon earth, where moth and rust doth corrupt, and where thieves break through and steal, says the Lord, advancing, in this way, the general idea of the needlessness of excessive care for transient treasures, whatever they might be - but lay up for yourselves treasures in heaven, where neither moth nor rust doth corrupt, and where thieves do not break through nor steal: For where your treasure is, there will your heart be also (Matthew 6:19-21).
In giving over his heart to earthly treasures, a man becomes their slave. As an explanation of the harm which the enslavement of the heart by care for earth things, including wealth, brings, Christ cites our bodily eye as an example (Matthew 6:22-23): In a healthy state, it correctly perceives the material light, thanks to which a man receives a correct notion about his own body and about all objects, and he gives them a correct evaluation, while the opposite occurs when there is damage to the eye. "And what the eye is for the body, the mind also is for the soul", explains Saint John Chrysostom. A bright mind clearly understands spiritual objects and directs all the soul's activity toward acquiring truly valuable spiritual treasures. "If thine eye is pure", says Blessed Augustine, "if thine intent is pure and pleasing to God, then all thy works performed with this intent will likewise be pure and righteous; they will be bright. But if thine eye is wicked," continues Augustine, "if thine intent is defiled and darkened by carnal lusts and the desire for temporal goods, then all thine actions which spring forth from this impure impulse will participate in darkness". Therefore, the cleansing of one's "heart", that is, one's inner world, from earthly attachments and passions must be the Christian's unceasing concern. Not only wealth can take possession of a man's heart, say the Holy Fathers, but every passion can become his idol, his "treasure", which it grieves him to part with.
Commenting on this parable, Bishop Theophanes the Recluse speaks about what wealth must become in the hands of the believer: "…since wealth is from God, when it flows in, dedicate it to God, and it will go out as holy wealth. Share all surpluses with the needy: this will be the same as returning to God what was given by God. Whoever gives to the poor, gives to God, " writes Theophanes the Recluse. "By exhausting wealth, as it were," continues the Hierarch, "such a man truly grows rich, being enriched by good works - he grows rich for God's sake, in forms of pleasing Him; he grows rich in God, attracting His good will; he grows rich from God, Who sets whoever is faithful in a little over many things; he grows rich from God, and not for himself, for he does not consider himself as an owner, but only a steward and a disburser, whose whole concern consists in satisfying all who come to him in need, and who is especially afraid to spend anything on himself, considering this as an incorrect use of the property entrusted to him," writes Bishop Theophanes the Recluse.
Each word of the parable of the imprudent rich man relates to each of us, and, perhaps, in some sense, these words are especially necessary precisely to contemporary man Indeed, in our time, perhaps, more than ever, men are inclined to act constantly like the rich man in the parable. Men are ready constantly to destroy the storehouses given to them in order to build new, in consequence of which they remain in the end with empty hands.
What does this mean? What do these storehouses signify? These are our present time, those minutes and hours which we actually dispose of, while the storehouses which we think to build are future time which for us may not even come.
Now, more than ever, men rush toward the future and have forgotten how to live for the present time; meanwhile, the present time is our real time.
Contemporary humanity is accustomed to living according to the murderous formula, "time is money"; or in order to kill time. What is the way out? What is to be done in order to save oneself and one's time, in order to truly find the wealth that does not grow scarce, that is, to grow rich in God? The Apostle Paul writes about this with great precision in the Epistle to the Ephesians (Ephesians 5:9-19). A portion of this epistle is always read at the Liturgy together with the parable of the imprudent rich man on the 26th Sunday after Pentecost.
This epistle of the Apostle Paul supplements the thought of the parable. In it, the fruits of the Spirit are spoken of; these fruits are exactly that real wealth which is given to those who grow rich in God. The Apostle enumerates these fruits: For the fruit of the Spirit is in all goodness and righteousness and truth … Wherefore, continues the Apostle Paul, he saith, Awake thou that sleepest and arise from the dead, and Christ shall give thee light. See then that ye walk circumspectly…, redeeming the time, because the days are evil. Wherefore be ye not unwise, but understanding what the will of the Lord is. ..be filled with the Spirit; speaking to yourselves in psalms and hymns and spiritual songs, singing and making melody in your heart to the Lord. In these words, the whole image of Christian life is traced simply. In them also is indicated the end which one most attain - the fruits of the Spirit, righteousness, striving toward the truth and the main means of attaining this end, that is, the knowledge of what God's will is. Furthermore, it is indicated that one must value time.
Upon investigating these words, each of us will himself see whether he is striving to obtain the fruits of the spirit, whether he is striving, and to what extent, toward spiritual perfection, and mainly, whether he is striving constantly, that is, valuing time, to know what God's will is.
After all, the true Christian lives not according to his own will, but according to God's will - he lives not alone, but in a certain inseparable oneness with God, as with his best friend, even more so than a bride and groom, or a wife and husband.
Each minute, in each small matter, the Lord wants to teach us what to do, how to act; and He thirsts for this not for His Own sake, but for the sake of our salvation, for the sake of the fullness of our life. And if we would always, each moment strive to know what, precisely, God wants from us, and if we would know this will of God, then our life would be filled with such fullness and light that we would begin to value each minute of our life, as lovers value it, who have only one care - how not to be separated.
Such a living unity with God is not given immediately to anyone; but one must to strive toward this and one must to believe in this happiness of unity with God.
Do we value our time? If not, then, according to the word of the Apostle Paul - let us wake up at last; let us rise from the dead. And may Christ the Lord enlighten us.
© V. Potapov
Relics in cathedral - monthly calendar
Address of our Cathedral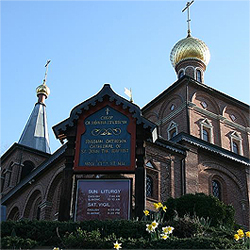 4001 17th St. N.W.,
Washington, D.C., 20011
Phone (202) 726-3000
Email webmaster@stjohndc.org
Subscribe to our mailing list
While all the materials on this site are copyrighted, you may use them freely as long as you treat them
with respect and provide attribution on the Russian Orthodox Cathedral of St.John the Baptist of Washington DC.