Hiero-confessor Luke (Voino-Yasenetsky)
January 29/February 11 & May 29/June 11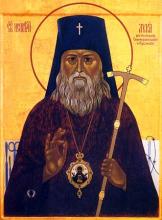 On June 11, the Russian Orthodox Church celebrates the memory of Hiero-confessor Luke (Voino-Yasenetsky), Archbishop of Simferopol and Crimea .Holy Hierarch Luke was born in 1877 in the town of Kertch, in the Taurida District. He graduated from secondary school and art school in Kiev. In 1903, he graduated from Great Prince St. Vladimir Medical School at the University of Kiev, and for a long time worked as a local district physician.
In 1921, a time of intense persecution of the Russian Orthodox Church, when the future for clergy promised only the heavy Cross of becoming a Confessor and Martyr, he chose the path of service to the Church, and was ordained a priest. In 1923, he was tonsured a monk and then consecrated Bishop of Tashkent and Turkestan. The same year he was arrested and exiled to Siberia.
In 1926, Bishop Luke returned to Tashkent, but in 1930 was again arrested and sentenced to three years of exile. Upon his release, he once again returned to Tashkent, and spent his time in medical practice. A fruit of this work was the appearance of his book Notes on Purulent Surgery, which laid the foundation for an entire medical specialty. For that work, Bishop Luke was awarded the degree of Doctor of Medical Science in 1936, and his work continues to be used in medicine to this day.
In 1937, Vladyka was arrested, and spent more than two difficult years undergoing tortuous interrogation. Nonetheless, resting his hope in the Lord, he courageously endured those trials, not only refusing to agree to false accusations against him, but engaging in active protests – refusing to eat, and sending complaints to the highest authorities against the prosecutors' illegal actions. He would say to his fellow prisoners, "They demand that I remove my ryassa. I will never do so. It, my ryassa, will be with me to my very death… I help people as a physician, and I help them as a servant of the Church…."
In 1940, Bishop Luke was sentenced to five years of exile in the Krasnoyarsk area. At the beginning of the Great Patriotic War [World War II], Bishop Luke offered the authorities his services as a doctor, and in 1941 was appointed consultant to the hospitals of Krasnoyarsk. In 1942, Vladyka was elevated to the rank of Archbishop and appointed to the Krasnoyarsk kathedra, which at the time did not have a single church. Through Archbishop Luke's efforts, in 1943 a church was opened in a suburb of Krasnoyarsk . "All of Eastern Siberia, from Krasnoyarsk to the Pacific Ocean, gave no sign of church life…" he wrote to Patriarch Sergius. "If churches in various parts of the Krasnoyarsk area are not opened in the near future, there is a risk that the people will lapse into religious savagery...."
In 1944, the archbishop was appointed to the kathedra in Tambov. In 1946, for outstanding scientific work in the area of medicine, he was awarded the Stalin Prize; he donated almost all of the money to help children who had suffered as the result of the War. In 1946 Vladyka was appointed to the kathedra of Crimea, where at first he combined archpastoral service with medical assistance to the people, but later dedicated himself to Church service, zealously working to build up Christ's vineyard, something that, under the conditions of life under Communist authorities, then demanded great courage and faith. Archbishop Luke reposed on June 11, 1961, on the day the Russian Orthodox Church celebrated the memory of All Saints of the Russian Land.
Holy Hiero-confessor St. Luke (Voino-Yasenetsky) was a precious vessel of Divine grace. Like his heavenly patron, the Holy Apostle St. Luke, he was a physician who continued Apostolic work; like the Apostle Paul he preached Christ's Gospel not only in church but in prison, in exile, to friends, to persecutors, to well-wishing supporters, and while enduring sorrows at the hands of false friends. He was one of those people of unique importance to people who cannot do something for themselves alone, who cannot limit themselves their activities to only what pleases them. For such people, the duty of serving one's neighbor is not an empty phrase, and for that reason in their activities they do not make choices by mere chance, do not build on a foreign foundation, but strive to find what needs to be done, right here and right now, and what will benefit all society. These are builders and workers who boldly come out onto the field of life in response to the Lord's challenge. To the ten talents given them by the Lord they return an additional ten. And that is the embodiment of the Gospel model for all of us.
The complete text of the life of Hiero-confessor Luke (Voino-Yasenetsky) may be found in the book Lives of the 20th Century New Martyrs and Confessors of Russia.Tver, 2007.
Address of our Cathedral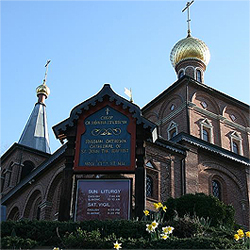 4001 17th St. N.W.,
Washington, D.C., 20011
Phone (202) 726-3000
Email webmaster@stjohndc.org
Subscribe to our mailing list
While all the materials on this site are copyrighted, you may use them freely as long as you treat them
with respect and provide attribution on the Russian Orthodox Cathedral of St.John the Baptist of Washington DC.