Holy Hierarch Nikolai of Serbia
5/18 March and 20 April/3 May
At its meeting on May 19, the Council of Bishops of the Serbian Orthodox Church unanimously decided to officially canonize Bishop Nikolai (Velimirovic) of Okhrid and Zhicha as a saint. With that action, the Council confirmed the overall conciliar belief in his holiness, "wide spread throughout the people of God not only in our [Church] but in other local Churches." He is commemorated on 5/18 March (the day of his repose) and on 20 April/3 May (the day his relics were translated from America to Serbia).
Holy Hierarch Nikolai of Serbia was born in the village of Leliz, near the Serbian town of Valjevo, on January 5, 1881 (N.S.). After completing theological/pedagogical school, he spent some time teaching. In 1904 he left Serbia to pursue further education in Switzerland and England. In Berne, he defended his doctoral dissertation in philosophy and theology.
In 1909 he accepted monastic tonsure in the Rakovica Monastery near Belgrade. For several years, he taught philosophy, psychology, history, and foreign languages at the Belgrade Theological Academy.
During World War I, he assisted his homeland by donating the proceeds of his lectures in America and England to help his compatriots.
In 1919 he was consecrated Bishop of Zica, and in 1920, of Okhrid, where he continued to serve until 1934. Later, he returned to Zica, and remained there until 1941.
At the beginning of World War II, the Germans incarcerated him and Serbian Patriarch Gavrilo in Rakovica Monastery, then were transferred to Vojlica, and finally to the Dachau concentration camp. He endured awful torture.
However, the Lord preserved him, and upon his liberation, Nikolai Velimirovic moved to America, where he pursued educational and theological activities and headed the émigré Free Serbian Church.
Holy Hierarch Nikolai departed to the Lord on March 18, 1956 in the state of Pennsylvania, and was buried in Libertsville. On May 12, 1991 his holy relics were translated to his native Lelic.
Holy Hierarch Nikolai was a profound religious writer and a remarkable philosopher, a reneweer of monastic life and of popular piety in Serbia, and he enjoyed the well-deserved love of the entire Serbian people. He also enjoyed the enormous love on the part of Russian Orthodox Christians; it was he that initiated Serbian reverence for Holy Martyr Tsar Nikolai, and he rendered enormous assistance to the Russian Church Abroad, which was based in Yugoslavia. He was a friend and spiritual instructor to Sts. John of Shanghai and the Serbian spiritual struggler and theologian Justin (Popovic). St. Nikolai's words are poetic, clear, permeated with wisdom and love, found a way into the hearts of both refined intellectuals and simple peasants; to each, St. Nikolai could say the words that would touch the responsive and deep strings of his heart.
Relics in cathedral - monthly calendar
Address of our Cathedral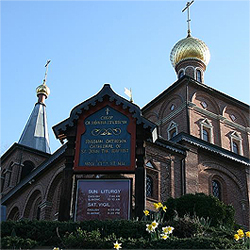 4001 17th St. N.W.,
Washington, D.C., 20011
Phone (202) 726-3000
Email webmaster@stjohndc.org
Subscribe to our mailing list
While all the materials on this site are copyrighted, you may use them freely as long as you treat them
with respect and provide attribution on the Russian Orthodox Cathedral of St.John the Baptist of Washington DC.