Holy Hierarch St. Gabriel (Kikodze)
13/26 December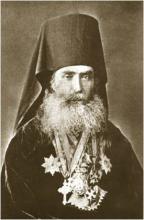 Bishop Gabriel was born in the Village of Bakhvi, Ozuretsk District (Western Georgia) on November 15, 1825, into the family of Priest Maxim Kikodze.
In the years 1840-45, Gabriel (then called Gerasim), studied in Tbilisi. Later he attended the Pskov and St. Petersburg seminaries. In 1849, he received his Master of Theology degree from the St. Petersburg Theological Academy. That same year he married and returned to Georgia. In 1849 he was appointed inspector of the Tbilisi Seminary; in 1854 the exarch ordained him to the diaconate, and then to the priesthood.
In 1856, at the age of 32, he was struck with an awful misfortune. His wife and five children died in an epidemic. St. Gabriel was tonsured a monk at the St. David-Garedgi Monastery. In 1858, St. Gabriel was appointed prior of the monastery. The same year, he was consecrated to the episcopate, and assigned as Bishop of Gori. On July 2, 1860, he became Bishop of Imertia, where he remained the diocesan bishop for the rest of his earthly life. St. Gabriel tirelessly strove to strengthen the faith of his flock. He constantly traveled to villages and towns, preaching and rendering assistance in every way possible to those in need. He had the greatest effect upon his flock through his personality, leading by his personal example.
Vladyka saw no differences among those who sought his help: whether old or young, prince or peasant, friend or stranger, all were equal in his sight, and could equally count on his help, support, and protection. He had no tolerance for lawlessness and immorality. The direct simplicity of his character was even reflected in his attire, his home, and his food. Often, visitors who saw him dressed in old, worn monastic garb mistook him for a servant.
Bishop Gabriel was a kind benefactor who generously distributed funds to the widows and orphans among his flock. He profoundly sympathized with the plight of the common people, and strove to help in the work of providing elementary education to everyone. To many young people who wanted to learn, he extended assistance, opening up his own home to them, and paying for their education. He shared his meals with these young people, and held long talks with them in an effort to awaken within them virtuous ideas, and to instill love and humility in their young souls. His motto was: "Nothing is mine; everything belongs to God." In Bishop Gabriel's diary, one can see the numbers of deceased homeless people for whom he provided funerals and burials, how many of the needy he clothed, for how many he paid travel expenses, to how many students he furnished school supplies, for how many of the sick he bought medicines. In wintertime, he would often make anonymous gifts of firewood and money to families who had lost their breadwinner.
Vladyka Gabriel was a fervent defender of the Georgian language. He frankly and fearlessly opposed all those who restricted the right to use his native language. Gabriel considered the language to be the very "fundamental element in a people's distinct identity," and felt that any people deprived of its native language was deprived of its distinct identity and traditions.
In 1885, Bishop Gabriel's secretary, the famous publicist Eustaphiy Mchedlidze (Bosleveli), was murdered. Vladyka also received threatening letters. He decided to leave Georgia. "My spiritual weakness lay in that I became frightened. But I feared not just for myself, for I was already old, and had little time left to live. However, if I were killed, what shame would have befallen the entire people for betraying their pastor?"
In the last years of his life, Vladyka Gabriel began to experience a powerful internal battle, often torturing him with awful visions. The enemy of mankind began to wage his final battle, striving to defeat the physically weakened elder. One day before his death, Vladyka repeated without ceasing the prayer, "God, have mercy upon me, a sinner." At the moment of giving up his soul, he prayed, "Remember me, O Lord, at the coming of Thy Kingdom." Archbishop Gabriel reposed on January 25, 1869. That year, winter in Western Georgia was unusually severe. The roads were blocked with snow, and it was impossible to bring the remains from Kutaisi to Gelati. While they waited for a break in the weather, Vladyka Gabriel's body rested in the Cathedral Church in Kutaisi.
Over the course of 46 days, all Georgia bade farewell to Bishop Gabriel, and in that time there was no sign of corruption of his body. At his personal direction, all his personal possessions were distributed to widows, orphans, and the needy. In his published farewell encyclical, Bishop Gabriel forgave the sins of all his flock, and himself asked everyone's forgiveness.
Address of our Cathedral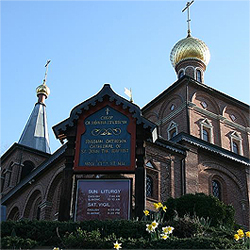 4001 17th St. N.W.,
Washington, D.C., 20011
Phone (202) 726-3000
Email webmaster@stjohndc.org
Subscribe to our mailing list
While all the materials on this site are copyrighted, you may use them freely as long as you treat them
with respect and provide attribution on the Russian Orthodox Cathedral of St.John the Baptist of Washington DC.