St. Barsanuphius of Optina
April 1/14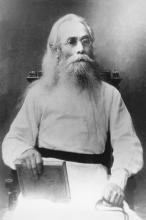 5 июля 1845 года в n July 5, 1845 in Samara, a son was born to the merchant Ivan Plikhanov; he named the boy Pavel. Ivan's wife died immediately after giving birth, and he was forced to remarry.
Elder Barsanuphius related: "My stepmother was a deeply religious and unusually kind woman, and completely became a mother to me… She would get up very early, and every day would be with me at Matins… She loved to pray at home as well. Sometimes, she would read the Akathist, and with my thin squeaky little voice, I would fill the apartment with the song, "Most-holy Theotokos, save us!"
Once, when I was 6 years old, the following happened. We were living at our dacha on our estate near Orenburg. Our house was in the middle of an enormous garden/park and was guarded by sentries and dogs, so that strangers would find it impossible to get into the park without being noticed.
It happened that my father and I were going for a walk in the park when suddenly, out of nowhere, there appeared before us some kind of Starets [Elder]. Approaching my father, he said:
Remember, father, that in time, the child will drag souls out of Hades.
After saying those words, he turned, and disappeared. Later, they searched for him everywhere without result: none of the guards saw him... At the age of 10, I was sent to school… Afterwards, I began to serve, and settled down in Kazan under the protection of the Queen of Heaven....When I was 35, matushka asked me, "Why is it, Pavliusha, that you avoid women? You will soon run out of time, and no one will want to [marry you]."
Out of obedience, I did what my mother wanted… That day, an acquaintance was hosting a dinner. Well, I thought to myself, I will have a long talk with whoever sits down next to me. Suddenly at dinner I found sitting next to me a priest who had distinguished himself by living a very spiritual life; he engaged me in conversation about the Jesus Prayer. By the time dinner was over, I had firmly resolved not to marry.
By paths unknowable, the Lord was leading me to monasticism. By God's mercy, I learned of Optina Hermitage and about Batiushka Amvrossy (Elder Ambrose), who blessed me to enter the monastery."
In 1881, Pavel contracted pulmonary pneumonia. When, at the request of the sick officer the orderly began to read the Gospels, a miraculous vision occurred, during which Pavel had his eyes spiritually opened.
According to Elder Nektary, "God deigned that in a single night, he be changed from an excellent military officer into an Elder."
On February 10, 1892 Pavel Ivanovitch became a member of the brotherhood of the St. John the Baptist Skete, and was attired in the inner cassock. Over the course of three years, each evening he would go to talk with the Elders: first to Elder Anatoly, and later to Elder Joseph.
On March 26, 1893 the novice Paul was tonsured a riassaphore monk; in December he was tonsured into the small schema, and was given the name Barsanuphius.
On December 29, 1902 he was ordained a hierodeacon, and on January 1, 1903, a hieromonk...
In 1903 Hieromonk Barsanuphius was assigned to be the Elder's assistant. At the same time he was assigned to be the spiritual director of the Shamordino Convent, a position he held until the beginning of the Russo-Japanese War.
In 1904, Fr. Barsanuphius was sent to serve at the St. Seraphim of Sarov Military Hospital, to provide Confession, Communion, and Holy Unction to the wounded and dying soldiers. Upon his return to Optina Hermitage at the conclusion of the War, Fr. Barsanuphius was elevated to the rank of Abbot, and assigned by the Holy Synod to be prior of the Optina Skete. Elder Barsanuphius was later to write, "All my actions and desires came down to one thing: keeping the holy commandments and directives of the ancient Fathers, Spiritual Strugglers, and our great Elders, in all of their Divine beauty, keeping and preserving them from the various corrupting trends of this world..."
Continuing the tradition of Optina eldership, he treated people's souls, "dragging their souls out of Hades." By God's mercy, the lives of those who came to him were opened to him. By helping people to bring to mind forgotten sins, through tactful delicate criticism, he would teach people to repent; by his prayers people would be healed both spiritually and physically.
In 1912, Elder Barsanuphius was assigned to be prior of the Theophany Monastery of Staro-Goltuvin. Despite the Elder's great spiritual gifts, there were some who were dissatisfied with his actions. Because of their complaints and denunciations, he was removed from Optina. He humbly asked to be allowed to retire to the Skete, even if it was to live out retirement as a simple novice.
icon from www.optina.org.ruourageously enduring the sorrow of having to leave his beloved Optina, the elder undertook the task of putting in good order the neglected and disordered monastery entrusted to his care. As before, a steady stream of people would come to St. Barsanuphius for help and consolation. And now already weakened by a plethora of painful illnesses, he would, as before, receive everyone without exception, would instruct them, direct them along that single, narrow, sorrow-filled but salvific path. There, in Staro-Golutvino, his miraculous healing of a young deaf-mute occurred. The Elder explained to the unfortunate mother, "This is an awful disease, the result of a grievous sin committed by the youth as a child." Then he whispered something into the deaf-mute's ear. The distraught mother cried out "Batiushka, he can't hear you. He is deaf…" The Elder replied, "It is you he does not hear; he can hear me…" and once again whispered something into the boy's ear. The youth's eyes opened in terror, and he obediently nodded his head… After Confession, St. Barsanuphius communed him, and the sickness left the suffering boy.
The Elder directed the Monastery for less than a year. His suffering during the sickness preceding his death was that of a martyr. Refusing medical attention or any food whatsoever, he would merely repeat, "Leave me alone; I am already on the Cross…" The Elder received Communion every day.
On April 1/14, 1913 he committed his pure soul to the Lord.
Account compiled by Svetlana Devyatova
From the teachings of Elder Barsanuphius:
There are various paths to salvation. The Lord saves some in monasteries, others in the world...
***
It is possible to be saved anywhere; just don't abandon the Savior. Latch onto Christ's garment, and Christ will not abandon you. A sure sign of the deadening of the soul is avoidance of Church services. The first thing that happens to someone who has turned cold toward God is that he begins to avoid going to Church. At first he tries to come to the service later than before, and then he completely leaves off attending God's church.
***
Those who seek after Christ find Him in accordance with the true words of the Gospel, "Knock, and it shall be opened, seek, and ye shall find." "In My Father's house there are many mansions." Note that here the Lord is speaking not just of Heavenly mansions, but about earthly abodes as well. He is speaking not just of interior ones, but of external ones as well..
***
The Lord places each soul into the position, surrounded by such circumstances, that best facilitates its success. That is the external abode. It is the interior abode, prepared by the Lord for those who love and seek after Him, that fills the soul with peace and joy.
Address of our Cathedral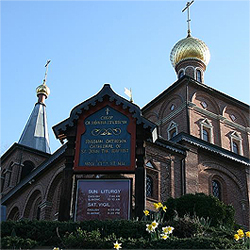 4001 17th St. N.W.,
Washington, D.C., 20011
Phone (202) 726-3000
Email webmaster@stjohndc.org
Subscribe to our mailing list
While all the materials on this site are copyrighted, you may use them freely as long as you treat them
with respect and provide attribution on the Russian Orthodox Cathedral of St.John the Baptist of Washington DC.