St. Philaret, metropolitan of Moscow
19 November/2 December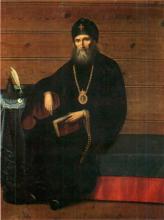 Metropolitan Philaret (Drozdov) of Moscow and Kolomna is without doubt the most important figure in the history of the Russian Church of the 19th century. He was a learned theologian, a political figure, a struggler of piety numbered among the saints, a preacher and poet. Saint Philaret of Moscow lived a long life, according to Russian Theological historian Fr. George Florovsky, lasting "literally from the conquest of Crimea to the Great Reforms." Metropolitan Philaret was born in 1782, and departed into eternity in 1867. He was the Bishop of Moscow for almost half a century (1821-1867), and his stature at the end of his life was such that his contemporaries called him the Metropolitan of All Russia, a "born Patriarch" of the Russian Church.
Metropolitan Philaret left more than 200 published works on a wide range of subjects, including theology, Russian and general Church history, explanations of the Canons of the Church, homiletics, government legislation, and other learned subjects.
Metropolitan Philaret (Vassily Mikhailovich Drozdov) was born December 26, 1782, in Kolomna, Moscow Province into the family of a deacon who later became a priest. From 1791, young Vassily Drozdov studied in the Kolomna Seminary, and from March 1800, in the Moscow Holy Trinity Theological Seminary which he completed on December 21, 1803. Upon graduating seminary, V.M. Drozdov was assigned to his alma mater as a professor of Greek and Hebrew; from August 30, 1806, he was professor of poetry, and preacher in the Holy Trinity - St. Sergius Lavra; from January 14, 1808, he was professor of rhetoric and oratory. On November 16, 1808, V.M. Drozdov was tonsured a monk with the name Philaret. In November 1808, Monk Philaret was ordained a hierodeacon, and on March 1, 1809, he was assigned Dean of Students of the St. Petersburg Theological Seminary and professor of Philosophy at the St Petersburg Theological Academy.
On March 28, 1809, Hierodeacon Philaret was ordained a hieromonk, and in August 1809 was appointed Dean of the St. Alexander Nevsky Theological School in St. Petersburg. On February 8, 1810, he received a bachelor's degree from the St Petersburg Theological Academy.
On July 8, 1811, Hieromonk Philaret was elevated to the rank of archimandrite, and on March 11, 1812, he was appointed rector and professor at the St. Petersburg Theological Academy. On March 27, 1812, he was made abbot of the Monastery of St. George in the Novgorod Diocese while also retaining his position as rector and professor of the Academy.
On August 13 1814, Archimandrite Philaret was awarded a Doctorate in Theology for his collection of works. On August 30 1814, Archimandrite Philaret was appointed as a member of the Commission on Theological Schools and in 1816, a member of the Russian Bible Society. In March 1816, he was made abbot of Novospassky Monastery in Moscow, while retaining his position as rector and professor of the Academy.
On June 2, 1816, he became a member of the Committee on Legal Matters concerning Orthodox Clergymen; June 16 1816, a member of the Council for a Merciful Society; March 3 1817, a member of the Building Committee at St. Petersburg Theological Academy; and on April 7, 1817, a member of the Central Directorate of Schools. On August 5, 1817, Archimandrite Philaret was elevated to the rank of Bishop of Revel, Vicar to the St Petersburg Diocese. On September 21, 1818, he was chosen a full member of the Russian Academy, on March 15, 1819, appointed Archbishop of Tver and member of the Most Holy Synod, on September 26 1820, appointed Archbishop of Yaroslavl and Rostov, and on July 3 1821, appointed Archbishop of Moscow.
On August 22, 1826, the Most Reverend Philaret became the Metropolitan of Moscow and Kolomna, where he remained until his death. Metropolitan Philaret also was accorded full or honorary membership in many other scholarly, cultural, and benevolent associations. On various occasions, Metropolitan Philaret was awarded many important ecclesiastical and secular awards.
Apart from the aforementioned, Metropolitan Philaret was known as a preeminent hierarch of Russian, pan-Orthodox and universal importance, an outstanding scholar, an expert in general Church history and in the canons of the Church, and as the most prominent preacher of his time.
Many important events in the history of the Russian and the Russian government of the 19th century are associated with the name of Metropolitan Philaret.
An advocate for Orthodox government, St. Philaret drew up many legislative documents of the Russian Empire. In 1823, at the direction of Tsar Alexander I, he drew up and kept in secret the decree appointing Nicholas Pavlovich Romanov heir to the throne. Nicholas I rewarded St. Philaret for his loyalty to the Throne in this critical situation. On August 22, 1826, the day of his coronation, Nicholas I elevated Philaret to the rank of Metropolitan. Acting on behalf of the Church in problems between Church and State, Metropolitan Philaret would (as circumstances allowed) present his positions and his proposed resolutions. They were always so well-founded, that in the realm of Church politics, it was simply impossible not to reckon with the authoritative opinion of this mighty figure. The Holy Hierarch made a direct, creative and decisive organizational contribution to the accomplishment of the Synodal translation of the Bible into Russian.
Aside from his homilies and other works, there is another monument to Metropolitan Philaret's participation in Russian literature. This is Metropolitan Philaret's poetic dialogue with Alexander Pushkin. In May 1828, a despondent Pushkin wrote the famous stanzas: "A gift in vain, a gift by chance." Elizabeth Khitrovo, a spiritual child of the Metropolitan gave them to him. The Moscow Hierarch, who appreciated the poet's talent, read in those verses "the cry of a lost soul, the murmuring of self-destructive despondency," and as a spiritual physician, he responded with an uplifting missive:
Not in vain and not by chance
Was life granted me by God
And not without God's hidden will
Has it been condemned to death.
I myself through willful power
Summoned evil from the dark abyss
And my soul I filled with passion,
Stirring up my mind with doubts.
Remember Him whom I'd forgotten
Pierce through with light the gloom of thoughts
Then it will be, through You created
A heart that's pure, a mind that's clear
This inspired outpouring of prayer for the poet suffering from gloomy thoughts is a living expression of the needs of a soul which has not yet entered into the life-giving light of God it has forgotten, and which therefore tortured by the gloom of bewilderment and error. At the same time, it points to the main source of healing. Pushkin understood this. Moved and brought to his senses, he expressed his gratitude to his healer with the following poem:
In Times of Amusement and Idle Tedium...
…And now from spiritual height
You stretch your hand out to me
And with your meek and loving power
Subdue my unruly fantasies
Burned by your fire, my soul
Spurned earthly vanities' gloom
Hearkening to the Seraph's harp
In sacred terror sings
The Moscow Holy Hierarch influenced the cultural world of his time, especially such writers as Gogol, Tiutchev, Zhukovsky, Khomiakov, and even Dostoyevsky.
He was accorded honorary membership in the Academy of Science on December 13, 1827. He was chosen a full member of the Academy of Science, as an academician in the Russian language and literature division on October 19, 1841.
Metropolitan Philaret reposed on November 19, 1867.
Address of our Cathedral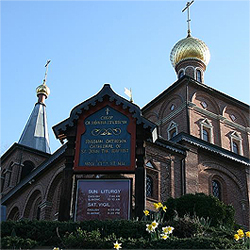 4001 17th St. N.W.,
Washington, D.C., 20011
Phone (202) 726-3000
Email webmaster@stjohndc.org
Subscribe to our mailing list
While all the materials on this site are copyrighted, you may use them freely as long as you treat them
with respect and provide attribution on the Russian Orthodox Cathedral of St.John the Baptist of Washington DC.