Lydia Alexandrovna Nartsissov (1913 - 2004)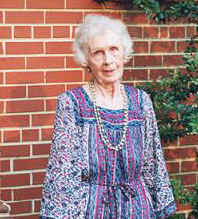 On the night of June 2/3, 2004, Lydia Alexandrovna Nartsissov, a long time parishioner and former head of the Holy Protection Sisterhood departed to the lord. She was 91. Her funeral was served in our church on June 4, and she was buried at the Holy Trinity Monastery in Jordanville.
Lydia Alexandrovna Nartsissova was born on March 5, 1913. She was named after her father Alexander Alexandrovitch Gorshkov.Her father owned a glass factory and a great deal of land, farmed by peasants, about 21 km. from Luga, St. Petersburg Province. Her mother, Maria Alexandrovna operated a large household, and raised three children. The peasants loved their employer, and during the civil war hid the family from the "Reds." However, there were also people who betrayed them. Denunciations rained down upon her father. Lydia spent her childhood and youth in difficult circumstances of war, the chaos of revolution, and endless persecution.
In 1920, Lydia's father died at the age of 41. The mother and her three children were forced to flee Russia. They fled with the White Army to Estonia, where they settled in Narva. Lydia completed 6 years of primary school and 5 years of gymnasium, and acquired a good education in the humanities. She extensively studied Russian literature, both prose and poetry. She enjoyed reciting verses by her favorite poets, and to the very last day of her life, knew many poems by heart.
In 1936, Lydia married Boris Anatolievitch Nartsissov, who pursued his higher education at the University of Tartu, and earned a Master of Science degree in chemistry. Already in his student days, he was writing poems. Impressions of early childhood in Russia, youth in Estonia, years spent studying in Tartu, and the Nartsissov family's participation in a Russian [literary] group in a country whose language was not Russian, were all reflected in Boris Anatolievitch's creative work. The first audience for and critic of his creative output was always Lydia Alexandrovna.
The Natsissov family lived in Estonia from 1920 to 1944. In 1940, the Estonia experienced a change in government. Many people knew that Lydia Alexandrovna was the daughter of the former landlord Gorshkov. Persecutions commenced. Estonian flags were replaced with the flags of the USSR. The authorities were arresting and deporting to Siberia the families of former factory and landowners. In 1944, war came to Estonia. Lydia Alexandrovna was then working at a bakery. One of her relatives who helped German prisoners was arrested and sent to a prison camp.
Toward the end of World War II, when the German forces were retreating from Estonia, the command staff offered the civilian population, both Estonian and Russian, voluntary evacuation to Germany. The German authorities arranged for a naval convoy to transport the refugees. Lydia Alexandrovna and her son managed to get on the second ship. They arrived in Stetin, and then by train traveled via Berlin to Fuessen. That was how the Nartsissovs got from Estonia to Germany. However, the war divided their family. At first, from the Fall of 1944 until May of 1945, they lived and worked on a farm.
Meanwhile, Boris Anatolievitch had been working at another location, that later became part of the French zone. However, Lydia Alexandrovna did not get knews of that for 2Ѕ years. Subsequently, a certain German officer helped Boris Anatolievitch find his wife and son. From May 1945 to October 1949, the Nartsissovs lived in the Schlesheim refugee camp, which housed several thousand people. All of the children attended school. Lydia Alexandrovna's son Yuriy attended a Russian school, completing primary school and one year of gymnasium. The children were educated by professional Russian teachers. There were two Orthodox churches in the camp. Yuriy served as an acolyte. Services were held on a regular basis.
In the Fall of 1949, the Nartsissovs left Germany. They wanted to get to the USA, but initially the opportunity did not present itself; they therefore went to Australia. They went by train from Germany to Italy, and later joined a small convoy of transport ships. The sea journey was difficult and dangerous one. The ship carried 1,000 people. They slept in double-decker cots. The men were put in the holds, and the woman and children put above. In the Mediterranean Sea, they encountered a storm of 9.5 wind-force intensity. The engine died. A fire broke out aboard ship. For three days, the ship was out of control, tossed about by the wind. Finally, the ship moored not far from Naples. Knowing that the relics of St. Nicholas the Wonderworker were in the city of Bari, Boris Anatolievitch asked the captain to let them venerate the relics. It took them several hours by bus to get to the holy place. They were allotted very little time, but their desire to venerate St. Nicholas' relics was very enormous. They were happy to have made a once in a lifetime pilgrimage. The entire Nartsissov family is firmly convinced that St. Nicholas was saving their lives.
In Australia, Lydia Alexandrovna at first worked with children at a hospital. No one could find steady work. Her husband was sent to work at a vineyard near Sydney. Later, Lydia Alexandrovna's husband found work in his field, and for 1.5 years worked in the mining of [bituminous] shale. Lydia Alexandrovna also found work there. Once there was an explosion in the laboratory. Literally one second earlier, Lydia Alexandrovna had gone into the next room, an action that saved her from the unfortunate accident. It was then that she remembered that the night before, she had had a dream in which she encountered her deceased brother, who told her that he had not time to talk to her right now, but that "[he] would come to her tomorrow at 12:00 o'clock. The explosion occurred at noon.
They waited for 2.5 years before getting the opportunity to move to America. In New York, the Nartsissovs' son Yuriy finished secondary school. Boris Anatolievitch found work in Ohio. The family moved, and Yuriy entered college. He graduated with a degree in civil engineering.
In 1960, Yuriy married his classmate Anne. In 2003, they celebrated their 43rd Anniversary of happy life together. They have three children, and three grandchildren.
Lydia Alexandrovna was a happy mother, grandmother, and great-grandmother. She always helped bring up her son's family, and her son and daughter-in-law surrounded her with love and attention.
Lydia Alexandrovna loved her church and the people who helped her during the nine years she headed the Sisterhood. She remembered and loved everyone who helped, who prepared lunches and worked during the annual Fall Bazaars. Lydia Alexandrovna herself never sat idle. She knitted and embroidered. She had "golden hands." In addition, she grew beautiful flowers in her garden.
Lydia Alexandrovna was an inexhaustible storyteller. One could listen to her forever. Moreover, she knew many poems by heart, even though she made no specific effort to memorize them. Poetry was part of her soul.
May that wonderful Russian woman inherit the Heavenly Kingdom!
Irina Ivanovna Kuklya
Address of our Cathedral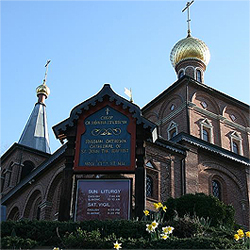 4001 17th St. N.W.,
Washington, D.C., 20011
Phone (202) 726-3000
Email webmaster@stjohndc.org
Subscribe to our mailing list
While all the materials on this site are copyrighted, you may use them freely as long as you treat them
with respect and provide attribution on the Russian Orthodox Cathedral of St.John the Baptist of Washington DC.