Events and services - monthly calendar
Events and Services - This Week
4th Saturday of Great Lent, Ancestral Saturday. Requiem Matins, Hours, and Liturgy (in the presence of the "Miraculous "Softener of Evil Hearts" Icon of the Mother of God). Scripture: Hebrews 6: 9-12; Mark 7:31- 37; for the repose: I Corinthians 15: 47-57; John 5: 24-30.
Meeting of the Miraculous "Softener of Evil Hearts" Icon of the Mother of God, and Vigil (Hierarchical rite). 8th Resurrection Gospel: John 20: 11-18.
4th Sunday of Great Lent. Commemoration of St. John Climacus. Meeting of His Grace, Most Reverend Bishop Nicholas, and Liturgy (one Liturgy, in light of Bishop Nicholas' visit and the general parish Holy Unction.) Scripture: Hebrews 6: 13-20; Mark 9: 17-31; for the Venerable Saint: Ephesians 5: 9-19; Matthew 4: 25 - 5: 12.
General Holy Unction for the entire Parish. Anyone wanting to take part in this Holy Mystery must have a been to Confession and Communion at least once during Great Lent, before the day of Holy Unction.
Meeting of the Parish Council
2017.11.16. The Kursk-Root Icon will visit our parish
With the blessing of His Eminence, the Very Most Reverend Metropolitan Hilarion, First-hierarch of the Russian Orthodox Church Outside of Russia, it has become the tradition that on Thanksgiving Day and the following week the Kursk-Root Icon visits Washington. This year, the Icon will come to our parish on November 23, and will remain in Washington through December 7.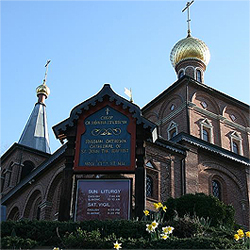 Subscribe to our mailing list
While all the materials on this site are copyrighted, you may use them freely as long as you treat them
with respect and provide attribution on the Russian Orthodox Cathedral of St.John the Baptist of Washington DC.