2018.12.24. "Happy Birthday, Father Victor!" – In Honor of Archpriest Victor Potapov's 70th
Our dear Fr. Victor Potapov has turned 70. This is probably a youthful age, because it is hard to imagine a person more young at heart, more active, and more helpful to others than our batushka. And, certainly, this is a blessing, for the Lord to send our parish such a remarkable rector.
Many parishioners have spoken about the many reasons why they attend our St. John the Baptist Cathedral specifically. And one of these reasons has a very concrete name: Fr. Victor, who envelopes his flock in love, attention, and kindness.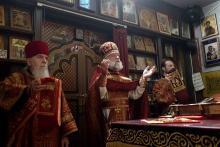 On Sunday, December 23, 2018, this flock gathered after Liturgy in the parish hall to congratulate their pastor. They began to honor him even earlier, in church immediately following Liturgy, when warden Dimitry M. Zaretsky offered Fr. Victor a congratulatory word and presented him with an icon of the parish's founder – the Holy Hierarch John of Shanghai & San Francisco – and his Matushka Maria with a huge bouquet of flowers.
The kissing of the cross took much longer than usual, because the people who filled the church all tried to say at least a few words personally to the rector, who remained on the ambo until the very end of the line.
The festivities then moved to the parish house, where the Holy Protection Sisterhood offered a luncheon for all. And although parishioners were offered to ascend to the second floor and into St. George House next door, virtually everyone chose to remain in the main hall, in order to participate firsthand in congratulating the celebrant. There was almost no unoccupied space left, and many stood in the hallways, but this was a wonderful example of "the more, the merrier."
An impromptu "concert" was conducted by our head sister, Marina I. Zacharin, and Dimitry M. Zarechnak remained on the stage throughout, translating congratulatory messages from Russian to English and vice versa, reminding speakers when necessary to speak in both languages.
It would be difficult to list everyone who took to the microphone to congratulate the celebrant (and I ask that those who did not make this list forgive me!). The wonderful parish choir sang "Many Years" in every conceivable way, and sang a wide variety of songs by request. Oleg Merkulov read a poem dedicated to Fr. Victor by our parish poet Andrei Gidaspov. Nikita Zelensky congratulated the rector on behalf of the scouting (pathfinder) chapter "Putivl'," noting that Fr. Victor, although never a scout himself, always engaged in the most active participation in the life of our scout camp. His speech was accompanied by photographs from the past, where many recognized themselves and their friends at a completely different age, which made the slideshow all the more interesting.
Also congratulating the birthday celebrant was the children's dance troupe MatryoshkiDC, for whom Fr. Victor is not only an assistant and patron, but literally its heart and soul. Kind words were offered by Igor Levin, his long-time colleague from work at Voice of America. And the priest from the Georgian Church, Fr. Pavle, presented the birthday celebrant with a real drinking horn and a woolen astrakhan hat. Fr. Victor did not immediately try out the first of these gifts, but the hat he put on, much to the delight of those gathered.
He delighted everyone once more when he blew out all of the candles on his cake, which had been specially baked by a group of parishioners for the occasion. The bakers of this culinary wonder asserted that there were exactly 70 candles on it, but Fr. Victor replied that he did not believe a word of it.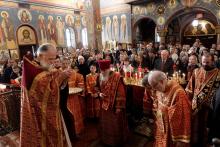 The culmination of the feast drew near, when the celebrant himself took to the stage. At such events, this usually means that the celebrations are drawing to a close, and that it is time for the guests to depart. But this time, no one thought to leave, because Fr. Victor began to speak about his life. At times this tale reminded the audience of a mystery, at others, of an adventure novel and every other literary genre, and was so interesting that they listened with bated breath.
Our rector spoke about how he came to the Faith, how he met his matushka, how he worked in a publishing house that would send contraband literature to the Soviet Union, how he would broadcast on Voice of America, and much more. The only regret is that the video camera was not turned on for his monologue, but we can always hope that he will one day repeat this autobiography "for the record."
The festivities continued long into the day. It concluded with a united and thunderous "Many Years" being sung to the celebrant by parishioners. Happy birthday, dear Father Victor! Many years!
Address of our Cathedral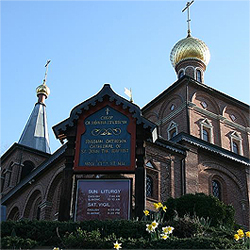 4001 17th St. N.W.,
Washington, D.C., 20011
Phone (202) 726-3000
Email webmaster@stjohndc.org
Subscribe to our mailing list
While all the materials on this site are copyrighted, you may use them freely as long as you treat them
with respect and provide attribution on the Russian Orthodox Cathedral of St.John the Baptist of Washington DC.